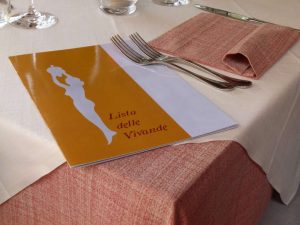 The bill of fare includes classic dishes of Piedmont cuisine / Monferrato, some dishes Italian and Mediterranean cuisine, without neglecting the fish which is inserted in the various sections of the menu.
Le pasta, gnocchi and filled pasta (ravioli, full, etc) are packed with high-quality organic flour and oil used in different preparations comes from the mills selected Ligurian.
The same care is used for the selection of meat fish and other raw materials.
The kitchen offers the Milonga:

The Kitchen of the Milonga suggests:

N.B.:

For any information about the

ALLERGENS

you can see

the appropriate documentation to be provided, on demand, by the staff on duty

.

appetizers

(Outside works)

Sea Salad (calamari, octopus, shrimps)

Seafood salad (squid, octopus, praws)

€ 10,00

Shrimp tails with almonds and curry (Venus rice)

Praws tails with almonds and curry (with Venus rice)

€ 10,00

Salted anchovies with green sauce and butter
Salted anchovies with green sauce and butter

€ 8,00

"Rawness" vegetable

Salad of raw vegetables

€ 7,00

Mix peppers to the plate with tuna sauce and salted anchovies

Grilled peppers with tuna sauce and anchovy

€ 8,00

Traditional Russian Salad

Traditional Russian salad

€ 7,00

Vegetables flan with fondue

Vegetable flan with melted cheese sauce

€ 7,00

Salad Cockerel Piedmontese

Salad of cockerel Piedmontese

€ 8,00

veal with tuna sauce (topside of veal cooked with salt)

Thin roastbeef slices of veal with tuna and mayonnaise

€ 8,00

Raw meat all'astigiana

Beef tartar (veal)

€ 8,00

Mix Tipico (raw meat – vitello tonnato – ins.russa – pepper)

Tipical Mixed (raw beef, veal with tuna sauce, russian salad, pepper)

€ 12,00

First dishes




(First dishes)

Spaghetti with clams and mussels

Spaghetti with mussels and clams

€ 10,00

Trenette Genoese Pesto

Pasta with genovese green pesto

€ 10,00

Spaghetti with fresh tomato and basil

Spaghetti with fresh tomatoes and basil

€ 8,00

Spaghetti alla Carbonara

Spaghetti carbonara

€ 10,00

Taglierini monferrino sauce

Typical Noodles with meat sauce

€ 8,00

Potato gnocchi with meat sauce, a "slime", with tomato sauce

Potato dumplings ( with ragù, with cheese, with tomato )

€ 8,00

Risotto with zucchini, shrimps, turmeric (me. x 2 people)

Risotto with zucchini,shrimp and turmeric (minimum two people)

€ 10,00

Risotto with saffron and sausage (me. x 2 people)

Risotto with saffron and sausage (minimum two people)

€ 10,00

Agnolottini fondue sauce of Piedmont hazelnuts

Cheese little ravioli in hazelnut sauce

€ 12,00

Agnolotti al plin(to monferrino sauce or butter and sage)

Small Ravioli typical (with ragù or with butter and sage)

€ 12,00

second Course

(Main course)

Norway pout with Mediterranean flavors

Codfish with mediterranean flavors

€ 14,00

Slice of Salmon to the plate in salmeriglio

"Grilled Norwegian Salmon steak in ""salmeriglio"" sauce"

€ 14,00

Fried Calamari, Shrimp tails, Anchovies

Selection of fried fish (anchovies, squid and prawn)

€ 16,00

Egg "Breaded"" of fondue with vegetables stewed

Breaded egg on fondue with stewed vegetables

€ 12,00

Escalope Chicken Marsala (a stuffed)

Escalope of chicken with Marsala wine or breaded

€ 12,00

Tripe Moncalieri to parmigianacon cannellini

Moncalieri tripe with beans

€ 12,00

Piglet fillet with green pepper

Pork fillet in green pepper sauce

€ 12,00

Braised Beef with Barbera d'Asti

Braised beef of veal in Barbera wine sauce

€ 14,00

Veal Ossobuco with mashed potatoes

Veal ossobuco stewed with mashed potatoes

€ 16,00

Lamb ribs grilled (the impanate)

Grilled lamb chops (or breaded)

€ 20,00

ENTRECOTE Black Angus to the plate

Grilled Black Angus Steak

€ 22,00

Paella Marinara (reservations required)

Seafood Paella (reservations required the day before)

Minimum for 2 people (minimum two people)

€ 15,00

Dessert

tiramisu

tiramisu (traditional-classic)

€ 6,00

Tarte Tatin with vanilla ice cream

Caramelised apple tart with vanilla ice cream

€ 6,00

Cassata Piedmont

Piedmont cream parfait with candied fruit and chocolate

€ 6,00

Panna cotta

Panna cotta

€ 6,00

Catalan cream

Catalan cream (similar to a creme caramel)

€ 6,00

Bunet

Chocolate pudding Piedmontese style

€ 6,00

Lemon sorbet

Lemon sorbet

€ 5,00

Ice cream to white yogurt with honey and walnuts

White ice yogurt with honey and walnuts

€ 6,00

Tart strawberry jam

Stawberry jam tart

€ 5,00

La Carlotta (cup with sponge cake, fruit, gelato, Meringue)

Crumbled cup with ice cream, fruit, meringue and amaretto

€ 6,00

Typical menu of Cucina Piemontese

Chef's menu of typical Piedmontese cuisine

( Mix of starters – 2 first – 1 second – 1 dessert )

(excluding wine - wines excluded)

€ 30,00