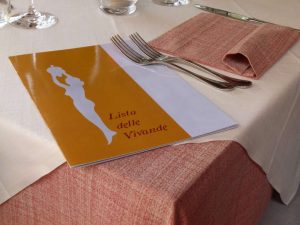 La lista delle vivande comprende i piatti classici delle cucina piemontese/monferrina, alcuni piatti di cucina ligure e mediterranea, senza trascurare il pesce che è inserito nella varie sezioni del menu.
Le paste, gli gnocchi e le paste ripiene (ravioli, plin, ecc.) sono confezionate con farine biologiche di ottima qualità e l'olio usato nelle diverse preparazioni proviene da frantoi liguri selezionati.
La stessa cura è usata per la selezione delle carni dei pesci e delle altre materie prime.
| | |
| --- | --- |
| | Scarica il nostro menù 2022 |
| | |
La Cucina della Milonga propone:

The Kitchen of the Milonga suggests:

N.B.:

Per qualsiasi informazione in merito  agli

ALLERGENI

è possibile  consultare

l'apposita documentazione che verrà fornita, a richiesta, dal personale in servizio

.

Antipasti (Hors d'ouvres)

Vitello Tonnato

(magatello di vitello cotto al sale)

Thin roastbeef slices of veal with tuna and mayonnaise

€ 8,00

Carne cruda all'Astigiana

Beef tartar (veal)

€ 8,00

Cima alla Genovese con salsa tartara

Stuffed veal sac stuffed with eggs, peas and meat

€ 8,00

Mix Peperoni alla piastra

con salsa tonnata e acciuga

Grilled peppers with tuna sauce and with anchovy

€ 8,00

Sformato di Verdura con fonduta

Vegetable flan with melted cheese sauce

€ 8,00

Mix Tipico

(carne cruda – vitello tonnato – ins.russa – peperone)

Tipical Mixed (raw beef, veal with tuna sauce, russian salad, pepper) 

€ 14,00

Acciughe sottosale

su mozzarella di bufala

Salted anchovies and mozzarella cheese

€ 10,00

Code di Gambero alla Thermidor

 

Prawns tails with Thermidor sauce

€ 10,00

Insalata di Seppia, Gamberetti, Verdurine

Cuttlefish salad with shrimps and vegetables

€ 12,00


Primi Piatti (First dishes)

Taglierini al Ragù alla piemontese

Typical Noodles with meat sauce

€ 10,00
Gnocchi di Patate al pomodoro e basilico

Potato Gnocchi with tomato and basil

€ 10,00
Trenette al Pesto genovese

Typical Ligurian pasta with genovese green pesto

€ 10,00
Spaghetti alla Carbonara

Spaghetti Carbonara

€ 10,00
Spaghetti alla Marinara

(con frutti di mare) 

Spaghetti with fish ragù

€ 12,00
Risotto Zucchine, Gamberetti, Curcuma

(

min.per 2 persone

)

Risotto with zucchini, shrimp and turmeric (minimum two people)

€ 12,00
Risotto ai Funghi porcini

(

min.per 2 persone

)

Risotto with porcini mushrooms (minimum two people)

€ 12,00
Agnolottini di fonduta

in salsa di nocciole Piemonte

Cheese little ravioli in hazelnut sauce

€ 12,00
Agnolotti al plin al burro e salvia

Small Ravioli typical with butter and sage

€ 12,00
Ravioli monferrini al Ragù (o al burro e salvia)

Monferrini Ravioli with meat sauce

€ 12,00


Secondi Piatti (Main course)

Merluzzo norvegese

ai sapori mediterranei

Codfish with mediterranean flavors

€ 14,00
Trancio di Ombrina scottato in padella

Seared croaker fish fillet

€ 16,00
Frittura di Calamari, Gamberi, Sarde

 

Selection of fried fish  (squid , prawns , sardine)

€ 16,00
Trippa di Moncalieri e cannellini alla parmigiana

Stewed tripe with beans

€ 14,00
Rollata di faraona alla contadina

Peasant-style guinea fowl rollata

€ 14,00
Stracotto di Manzo al Barbera d'Asti

Braised beef of veal in Barbera wine sauce

€ 18,00
Bollito Misto alla Piemontese

Piedmontese mixed boiled meat

€ 18,00
Costolette di Agnello impanate

(o alla griglia)

Breaded lamb chops (or grilled)

€ 20,00
Filetto di Vitello Piemontese

alle erbe e spezie

Veal fillet with aromatic herbs

€ 20,00
Entrecòte di Black Angus alla piastra

Grilled Black Angus Steak

€ 22,00
Paella Marinara (prenotazione obbligatoria)

Seafood Paella(reservations required the day before)

Minimo per 2 persone (minimum two people)

€ 20,00


Dessert

Tiramisù

Tiramisù  (traditional-classic)

€ 6,00
Tarte Tatin con gelato vaniglia

Caramelised apple tart with vanilla ice cream

€ 6,00
Cassata piemontese

Piedmont cream parfait with candied fruit and chocolate

€ 6,00
Panna cotta

Panna cotta

€ 6,00
Crema catalana

Catalana cream (similar to a creme caramel)

€ 6,00
Bunet

Chocolate pudding Piedmontese style

€ 6,00
Coppa gelato vaniglia

con crumble di frutta secca

Vanilla ice cream cup with dried fruit crumble

€ 6,00
Torta di nocciole con zabaione freddo

Hazelnut cake with cold eggnog

€ 6,00
Sorbetto al Limone

 Lemon Sorbet

€ 5,00

MENU dello CHEF (cucina tipica piemontese)
Euro 34
(esclusi vini – wines excluded)


"Chef's menu" of typical Piedmontese cuisine
(Mix of hors d'oeuvres – 2 first dishes – 1 main course – 1 dessert)
(Mix di antipasti – 2 primi – 1 secondo – 1 dessert)
Prezzo del Coperto: 2 €