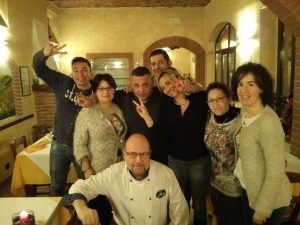 For the patrons of the nearby Agliano Terme Spa, for lovers of Barbera wine product area, or those who, simply looking for a little relaxation, The Milonga is the ideal place.
His name is the famous South American rhythm (also used by the famous songwriter from Asti Paolo Conte), but derives, in the first place, the name given to a statue (She plays a woman holding up a bunch of grapes), discovered in the attic of the house where the tavern is located, object from sentimental value to the owner and become the local symbol; also the name, in addition to connecting the woman with the wine, the kitchen, Dance, music and song, recalls the idea of "length" that characterizes the local plant.
L'Osteria, born in October 2005, He lives in the heart of the hills of Monferrato, in the vineyards of Barbera; from the top of the sunny hill in the center of the town of Agliano Terme, Milonga looks toward the gentle lines of the surrounding area.
In the balance of colors, sounds and scents proposals are part of the Milonga, by tasting its cuisine menu and its wines, walks to discover the surrounding area.
Chef Mauro Gamberoglio
Long experience of more than 35 years in the restaurant business:
educational coordinator and teacher at the Vocational Training Centre of Agliano Terme Hospitality (Today the Vocational Training Agency Astigiane hills)
from 1980 al 2001, responsible for the service and consultant to numerous restaurants, promoter of initiatives to enhance the cuisine and wines of Piedmont in Italy and abroad,
consultant at the Piedmont Region and the Province of Asti for trade fairs and exhibitions in Italy and abroad;
National rapporteur for professional courses dell'A.I.S. e dell'O.N.A.V.,
correspondent for magazines and newspapers for services pertaining to the agri-food sector, co-author of the books "Cooking with wine" (Stand Award winner 1997) e "Wines and typical regional dishes".
Mauro Garberoglio, professional sommelier from 1981 (2St place in the National competition for Sommeliers – Roma 1981), It combines his considerable expertise in the wines, his great passion for cooking, daily research in the execution of recipes and research of high quality raw material.
In 2005 opens "The Osteria la Milonga"